Dr. Henry Backe
Orthopaedic Surgeon
Specializing In Hand & Wrist, Hip,
Knee & Sports Medicine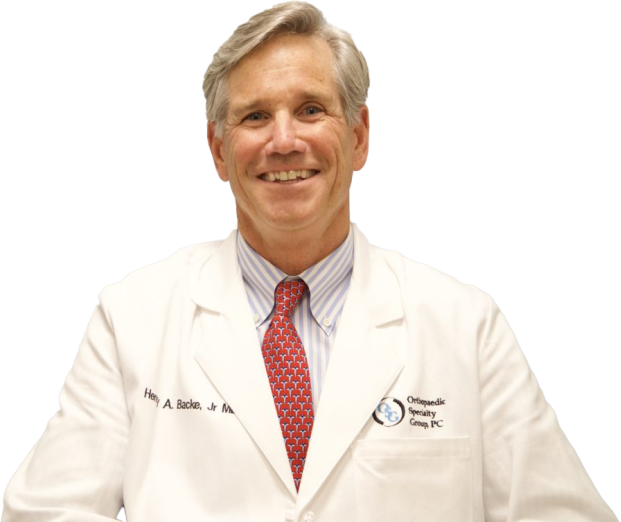 Biography
Dr. Henry Backe
Orthopaedic Surgeon
Hand & Wrist, Hip,
Knee & Sports Medicine
| | |
| --- | --- |
| When I was in kindergarten I decided I would be a doctor. I wanted to be a scientist yet care for fellow humans. My Academic career took me to the Orthopedic residency after medical school at Temple University Hospital in Philadelphia for the love of the musculoskeletal system. Healthy patients wanting to get better and do more excited me. I could help them continue active lifestyles. This included  athletes wanting to continue to compete at the highest levels. | |
A hand surgery fellowship at the Hospital for Joint Diseases now part of NYU, was the path I chose to be the best technical surgeon and understand the intricacies of hand anatomy and function. I then studied the biomechanics and the art of joint reconstruction at the Hospital for Special Surgery. This knowledge could be applied to all joints of the human body including hip and knee replacement as well as joint of the elbow and hand
My practice for the last 25 years in Connecticut has been delivering orthopedic care with emphasis on hand surgery and joint replacement. I had the opportunity to study with many great hand surgeons, sports medicine surgeons and joint replacement surgeons during my training. This exposure allowed me to garner unique knowledge and skills from each of them and then apply them to my practice of orthopedics. Thus my fellowship training in hand surgery and joint reconstruction surgery have complimented each other throughout my career. I have been able to offer state of the art Joint Replacement Surgery and Hand Surgery to my patients. My work with the professional, college and high school athletes has anchored me to my community and allowed me to help high achieving athletes recover from sports injuries. My work in Central America doing hand surgery over the last 12 years has allowed me to give back globally and expand the reach of the benefits of my training. I have been lucky to work with an exceptional group of surgeons at OSG giving exceptional care to the people of Connecticut and beyond. I pride myself in being a listener to my patients. I am humbled and honored by the trust and respect I have received from them in return.
OSG Educational Foundation – Dr. Henry Backe founded the OSG Educational Foundation to enable those in our community who want to give back something of themselves to do so at home or abroad. The Orthopedic Specialty Group Educational Foundation was founded as a 501 (c)3 public charity to foster humanitarian outreach and education related to musculoskeletal care at home and abroad. Our mission is to promote education and volunteerism in the deliverance of care to the underserved and uninsured regardless of religious, cultural or socioeconomic status.
Innovation & Research – Dr. Henry Backe has been a leader in providing innovative treatment options to his patient in the Connecticut and New York regions.  He continues to seek opportunities to participate in research activities that will enhance his practice offerings and give patients an opportunity to participate in research programs.
SEEING PATIENTS AT THESE LOCATIONS
EDUCATION
Fellowship, Hand Surgery, Emmanuel B. Kaplan Fellowship, Hospital For Joint Diseases, New York, NY
Fellowship, Joint Reconstruction Hospital For Special Surgery, New York, NY
Residency, Orthopaedic Surgery Temple University Hospital, Philadelphia, PA
Internship, Surgical, University of California,San Diego Medical Center, San Diego, CA
M.D., Temple University School of Medicine,Philadelphia, PA
BOARD CERTIFICATION
GLOBAL INVOLVEMENT
AFFILIATED HOSPITALS & SURGERY CENTERS
Division Chief of Orthopaedics, St. Vincent's Hospital
Bridgeport Hospital, Yale New Haven Health System
AWARDS AND HONORS
US News & World Report Top Orthopedic Doctors
Top Doctor, Orthopaedics
Castle Connelly Top Orthopedic Doctors – 10+ Years
New York Magazine – Top Orthopedic Doctors
Connecticut Magazine – Top Orthopedic Doctors
AREAS OF SPECIALTY
Hand and Wrist
Sports-Related Injuries
Injured Worker
Direct Anterior Hip Replacement
Complex Fracture Management
Nonunion/Malunion of Fractures
Pelvic & Acetabulum Reconstructive Surgery
Knee Replacement
PROFESSIONAL MEMBERSHIPS/AFFILIATIONS
Certificate of Added Qualification in Surgery of the Hand
Board-Certified, American Board of Orthopaedic Surgery
Member, CT State Medical Society
Member, CT Orthopedic Society
Member, American Association for Hip and Knee Surgeons
Past President, Eastern Orthopaedic Association
President and Founder, Orthopedic Specialty Group Education Foundation
Board of Councilors, American Academy or Orthopaedic Surgery
Concierge Key Health