Sports Medicine
Dr. Henry Backe is an integral part of the Orthopaedic Specialty
Group, P. C. team for over 25 years. Dr. Backe's exceptional surgical skills are complemented by a personable style and dedication to the highest quality patient outcomes and satisfaction. He is a board certified orthopaedic surgeon and is focused on treating sports-related injuries and conditions.
Sports Medicine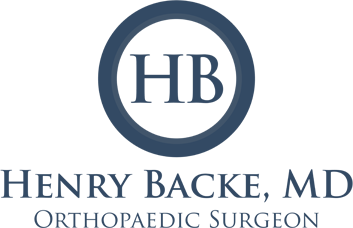 Sports Medicine Specialist In The Greater Fairfield & Shelton Areas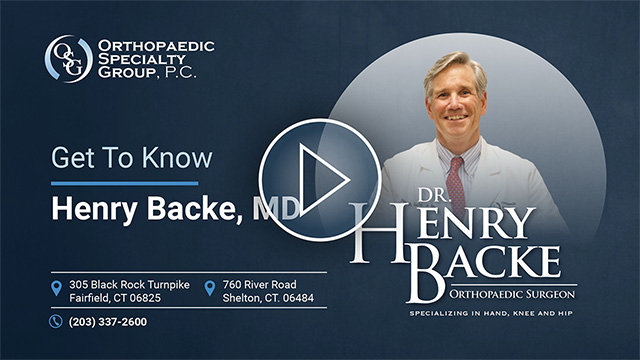 Dr. Henry Backe treats sports-related conditions and injuries at his offices in Fairfield and Shelton, Connecticut. Dr. Backe of Orthopaedic Specialty Group, P. C. is a specially-trained orthopaedic surgeon specializing in conditions and treatments of the sports-related injuries. Each of his patients receives a unique treatment plan matching their lifestyle goals. As a leader in providing conservative and innovative treatment options, he is an advocate of state-of-the art technologies that benefit his patients.
Commonly thought of as "athlete's medicine," sports medicine is really a unique approach to the care of injuries and conditions that occur not only in athletes, but also normal, active people.
As a matter of fact, anyone with an injury or condition that limits their activity level can benefit from a sports medicine approach.
Whether you are a collegiate athlete, weekend warrior, or sedentary person wishing to get more active, sports medicine applies to you.
Advanced Sports Medicine Care
at Orthopaedic Specialty Group, P. C.
With Dr. Henry Backe
Dr. Henry Backe provides comprehensive treatment options for patients who are suffering from orthopaedic sports-related injuries. Dr. Backe will work closely with you each step of the way, involving you in key decisions and ensuring that your treatment plan is a collaborative effort from diagnosis to recovery.
Highly Trained Orthopaedic Sports-Medicine Surgeon
Dr. Backe provides both surgical and conservative treatments options.
Minimally-Invasive Surgery Options
Dr. Backe' goal is to emphasize non-surgical treatment options and when needed, minimally invasive surgery. When surgical intervention is required, Dr. Backe offers the most advanced and innovative surgical treatment options available.
Convenient On-Site Rehabilitation Services
Dr. Backe partners with onsite Physical Therapy teams dedicated to the full continuum of care for each patient, based on Dr. Backe' specific conservative care or post-surgical rehabilitation plans.  One of the many benefits of In-house rehabilitation services is providing close communication channels between Dr. Backe and his dedicated team of physical therapists.